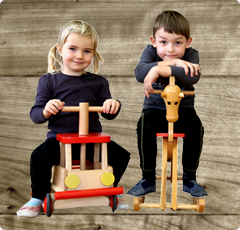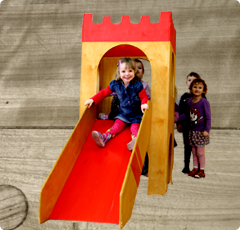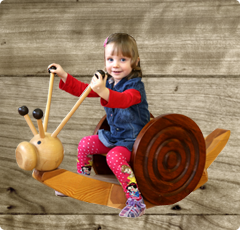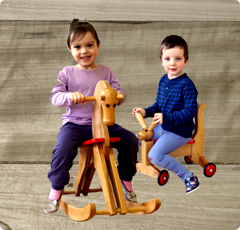 ABOUT THE CUSTOM-MADE WOODEN TOY PRODUCTION
Once upon a time... a long time ago, in 1990, in the kingdom of Czechoslovakia, on the Křižanov estate, at times difficult for the local folk, people started to play again under the castle. They were not many, only about a dozen. They took axes, saws, planes and chisels and made wooden toys. But nobody wanted them. That is why they summoned a renowned French artist who brought new ideas. They also summoned a Dutch master merchant; he knew how to sell the toys. And so it was until 1999, when Acti Bois CZ, s.r.o. handicraft was established on a farm in Dobrá Voda. The story could end here; but then it would not be a fairy-tale where good triumphs over evil, truth over lies and love over hatred... However, the sun did not always shine on the toiling band. Sometimes a rambling highwayman appeared trying to steal from the local treasury. But several benefactors came to the farm, too; they helped with advice or a ducat or two.
ON THE PRODUCTION EQUIPMENT
There were a lot of skilful masters who knew their trade truly brilliantly. They included woodcarvers, joiners, cutters, painters, lacquerers, fitters as well as packers. All in all, everybody did what he was meant to do, and their work indisputably reflected it. As time went by, their work piled up, so they mused on how to speed it up and produce in an increasingly better way. They indentured young apprentices and bought new equipment to facilitate their work. Since that time the production of toys that make children happy has been easy. Neither imposters nor villains thwarted their intention to spread joy through wooden toys. We know them since our birth. They conjure up a smile, cultivate imagination and you somehow stop growing old. If you have the same intentions and like spreading good humour, you can do so in your domain, too. We will not prevent you from doing so and will be glad to help. Do not hesitate; this fairy-tale is heading to you , as well.
Tento web používá k poskytování služeb a analýze návštěvnosti soubory cookie. Používáním tohoto webu s tím souhlasíte. Více o cookies.