About us
Acti Bois CZ s.r.o. was established in 1999 as a successor company of Actibois spol. s r.o. The wooden toy production had started already in 1990 as a sideline of the "Křižanovsko" agricultural cooperative. First wooden toys were created in a makeshift way, without required technical equipment and knowledge of production. We gradually improved the production procedures and learned how to conduct trading, mainly with Western Europe. Also the original production spaces were unsatisfactory and temporary for many years. However, in 2000, we lived to see it done at last and moved to a partly reconstructed workshop in Dobrá Voda.
At present most of our products are custom-made. As a result of the technological as well as personnel variability we are able to satisfy both miscellaneous and demanding requirements. In a relatively short time we deliver large- as well as small-lot orders.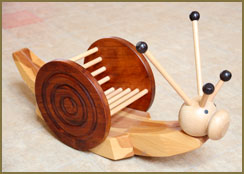 The main production range of Acti Bois CZ s.r.o. includes wooden toys. However, our portfolio also includes other wooden products, including baby furniture, kindergarten and day nursery equipment, nest boxes, board games, and various types of promotional giveaways including presentation stands and cabinets.
The most used materials include hard beech saw timber or birch plywood with a water-based coat and paint finish. We also supply a vast range of products in versions with printing. We also use laser engraving and cutting.


In toy production we adhere to the EN 71-3 standards regarding their safety and quality.
Tradition and long-term experience are our largest added values. We guarantee qualifications, craftsmanship and reliability of all our approx. fifty employees who try to accommodate the needs and wishes of their customers to the maximum.